SURYA CONSTRUCTIONS

"For High at Quality and Low at Construction Cost"

Call us now : + 91 - 9723550835, 9723550838
about us....
---
We are glad to introduce ourselves as a civil construction company in the industry for last 37 years. We have executed a wide range of projects in various sectors such as commercial, industrial, residential, etc. Our area of operations spans Gujarat, Maharashtra, Daman and Dadra Nagar Haveli and adjoining places.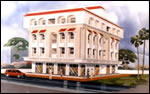 In 1970, when Vapi was recognized as a Chemical Industrial Zone, it was virtually a small village market. No Infrastructure development facilities were available in and around Vapi at that point of time. Late Shri Janardhan C. Singh (Our beloved father ) formed a Construction company in the name of M/s. Raj Construction. Since then, M/s. Raj Construction has played a significant role in the field of Civil Engineering and Infrastructure development and all related works. A dedicated clientele portfolio and projects created by M/s. Raj Construction speaks of itself. Subsequently during significant growth and having three sons, he decided to make three different organization and thus in course of this thought process, M/s. SURYA CONSTRUCTIONS emerged out as a leading Construction company both in the field of Industrial Building and Construction as well as Infrastructure development & domestic construction.
M/s. SURYA CONSTRUCTION, founded in the year 1999, is backed by well experienced Technocrats. The established credentials and a healthy list of customer speak for this.
We work to meet the stringent demands and needs of our customers to give them the utmost satisfaction level. We pride in our ever increasing list of clientele, dedicated experience of civil engineering, dedicated manpower, adequate strength in terms of machinery available and above all the trust shown in us by our valuable clients.
COMMERCIAL INFORMATION

1.

Name of the Firm
M/s. Surya Constructions

2.

Our Bankers
S.b.Indore to State bank Of India.
S.B.P.O. Co-op Bank Ltd.

3.

Registration Nos.
PAN No.GST No.CST No.Service Tax No.
AOIPS0361P
XXXXXXXXXXXXXXX
XXXXXXXXXXXXXXX
XXXXXXXXXXXXXXX

4.

States of Operation
Maharashtra, Gujarat & U.T. of Dadra & Nagar Haveli, Daman

5.

Single value of contract company can execute
15 Crores in 1 Year